Feature Story
Cyndi Reid, Pete Faust celebrate 40th anniversaries with Village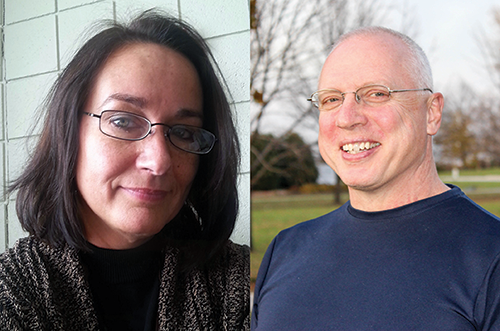 Cyndi Reid celebrated her 40th anniversary at Opportunity Village on Nov. 16, and was hired to work here when it was "the place to work," she said.
Over the years, Cyndi filled many roles throughout Opportunity Village. She started by filling in at the 10 cottages on the Clear Lake campus. She then worked at the Kinney Lindstrom Center in the Blooming Bunch and Sunrise Group classroom areas. She also worked at the snack bar located in the Atrium and supervised its work crew before transferring to Mason City Services and helping to open the Country Circle house. She supervised that home along with the home on Monroe Court before moving back on campus where she was team leader at Executive cottage. Finally, 12 years ago, she switched to a quality assurance coordinator position which transitioned into quality leader for region I. Additionally, she job coached at several locations and worked as a lifeguard at Boyer Pool.
Cyndi said she has too many precious memories to share of her time here, but one that sticks with her is that employees aren't always the ones doing the supporting. "One fella we supported noticed I was a bit down in the dumps," she said. "He came over to me, placed his hand on top of mine on the table and said, 'I love you, Cyndi.' He knew just what I needed!"
Working at Opportunity Village has taught Cyndi patience and humility. "There are people we support that have had a horrible past and yet never complain. They brighten the day of so many people with their loving smiles and contagious laughs. It's very humbling and makes me wonder why we complain at all."
Ultimately, Cyndi said she has grown through working at the Village. "To support someone to live the life they want to live is the ultimate gift," she added.
---
Pete Faust marked four decades with Opportunity Village in August. Pete started working at the Village in 1976 after participating in an on the job training class at Clear Lake High School and deciding to follow in his older brother's footsteps, who also worked here.
Pete spent most of his years at the Village working in Clear Lake as a personal support professional. He worked as a third shift supervisor for some time and for the past 16 years, he has worked at the Activity Center in the Creative Developmental Service room as his primary work area and in the newly reopened Bedrock ICF home as his secondary work area.
Some of the best parts of his time here were assisting a client in going to the post office so he could mail a letter for the first time. He also recalled long road trips to help those he supported renew connections with family.
Pete noted Gary Clark, retired team administrator, and Deanna Lingenfelter, who receives services from the Village, as two people who have made an impact on him.
"Gary was very intentional in his desire to promote personal growth and a feeling of well being in the people around him, clients and staff alike," he said. "And Dee has a smile and sense of humor that always lifts my spirits. She genuinely cares about people and has empathy for those around her. She always seems to have a timely story that enriches our conversations and makes me feel valued."
Overall, Pete's time at the Village has taught him that advocating and serving others is his true, high calling in life. "Working here at the Village has helped me see that people with disabilities are NOT people with disabilities," he said. "They're people, we're the same.